Addiction Treatment Services


Case Management
When it comes to addiction recovery, case management is an important part of the overall process — from the start to finish. Case managers serve as the primary advocate for each individual client. Their role is to help clients plan, facilitate and manage their individualized treatment plans.
From the very beginning of the treatment process, Pine Tree case managers get to know their clients on a personal level. They learn about their families, life circumstances, legal challenges, employment status, medical needs and any other information pertinent to managing their recovery journey. Case managers serve as an intermediary between our clients and their families, lawyers, doctors, employers, universities or any other pertinent people or entities involved in their comprehensive treatment plan.
At Pine Tree Recovery Center, all of our on-staff case managers are highly experienced professionals with a wealth of knowledge. They remain committed to creating a positive, seamless experience for our clients. To learn more about case management or about Pine Tree Recovery Center as a whole, contact us today. We are dedicated to helping get you or your loved one started on the road to recovery, and paving the way for long-term success in sobriety.
Effective Case Management Services
The Substance Abuse and Mental Health Services Administration (SAMHSA) outlines several principles of effective case management. These principles are listed in Treatment Improvement Protocols, and are closely followed by all Pine Tree Recovery Center case managers. Our main priority is ensuring each of our clients has access to the resources and services necessary to overcome addiction.
The Principles of Effective Case Management:
Case management offers the client and his or her loved ones a single point of contact, consolidating the services that are being received from all involved agencies.
Case management services are completely client-driven, and focus on the unique and individualized needs and clinical requirements of each client.
Client advocacy is one of the top priorities of effective case management.
Case management is pragmatic and begins addressing the most immediate needs of each client first.
Case management services must be flexible and must continuously adapt to the changing needs of the client.
It is crucial that the case manager anticipates any potential problems and understands what is necessary to thoroughly address these problems before they fully develop.
Case management services are culturally competent, and address necessary accommodations for diversity, race, gender, ethnicity, disability, sexual orientation, and life stage (for example, adolescence or old age).
The Role of Pine Tree Recovery Center Case Managers
Case managers serve many different roles, and the role they play in each treatment journey depends on the unique needs of each individual client. In most cases, case managers serve the following roles:
They serve as the main point of contact between the clinical and medical team and the loved ones of each client. If your loved one is in treatment, you likely want to stay informed of their progress. What is the next step? Is everything going according to plan? If the client is not in a level of care which allows them to check in themselves, the case manager regularly checks in with you and lets you know how things are going.
They help the client navigate the treatment process. If the client has any questions or concerns, they can check in directly with their case manager. Each case manager stays informed of where the client is in their recovery journey, allowing them to answer questions in a timely and appropriate manner.
They help the client develop important life skills. Active addiction severely compromises the ability to function at a basic level. Many clients must relearn what it means to take care of themselves. Our case managers ensure that our clients learn to set and achieve personal goals, practice self-care, maintain a clean personal space and build healthy relationships with other people in recovery.
They help clients explore effective dual diagnosis treatment options. At Pine Tree Recovery Center we offer dual diagnosis treatment options for clients who are suffering at the hands of an underlying mental health condition like anxiety, depression or bipolar disorder. Case managers work with a client's psychiatrist to ensure that they are being properly medicated and have access to any additional services they require.
They ensure the needs of the client are being consistently and adequately met. During the medical detox portion of the addiction treatment process, clients require extra care and attention. In addition to having 24/7 access to professional medical care, clients have access to their case managers so they can communicate what they need and when they need it.
Our Drug & Alcohol Detox Services Include
---
Case Management — An Ongoing Process
Pine Tree Recovery Center looks at case management as an ongoing process. The services we provide do not end simply because a client has graduated from our treatment program and taken the next step on their personal recovery journey. A case manager is a mentor and an ally for the individual, as well as being someone who is personally committed to their recovery in the longer term.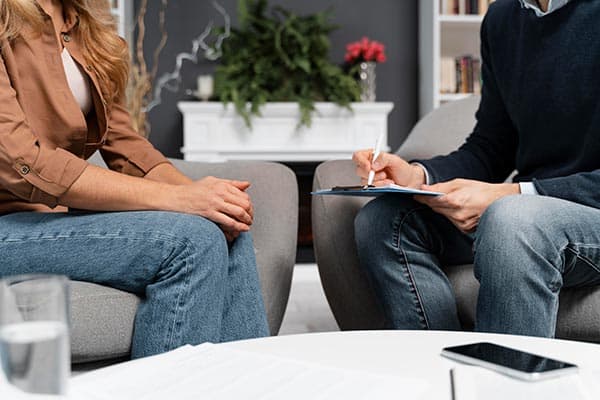 Monitoring and Assessing Progress in Treatment
Part of the role of the case manager is to observe our clients as they progress toward wellness. This may include advocating on behalf of the client with external agencies or serving as a point of communication with families and friends. At Pine Tree Recovery Center our case managers stand by the belief that clients need to develop the resolve and motivation to stay on the right path. Case managers are trained to look for a loss in either quality (resolve and/or motivation) and have a wealth of experience, tools and therapies that they commonly adopt to make sure the needs of each client are properly accommodated.
Additional Case Management Services:
Monitoring medications & appointments.
Drug testing & check-ins.
Tracking progress through the continuum of care.
Communicating with providers & family.
Advocating for the client in any capacity necessary.
Coordinating support activities & modalities.
Providing 24/7 patient support.
Ready To Begin Your Drug & Alcohol Detox?
We Offer A Safe & Effective Program
Don't let Drug & Alcohol addiction control your life.
Call us today and let's get you started on the path to a better you.
Family Involvement & The Addiction Treatment Process
Family support is essential in long-term recovery. Sometimes the loved ones of individuals suffering from addiction can become disillusioned, blaming themselves, developing unhealthy methods of coping, or even turning to substance use themselves. Our case managers help the loved ones of our clients access the resources they need to overcome their own mental and emotional hardships. Case managers provide the loved ones of our clients with basic addiction education, helping the family better understand what happened, to how to improve communication, and how to stay involved in the treatment process in a healthy and productive way.
Each case manager has the experience needed to help clients and their families with the issues being faced and will help secure the right resources and support as needed.
Clinical Case Management as a Cornerstone of Recovery
There are many facets involved in substance use disorders, and it takes time to work through all of the implications and related consequences. Pine Tree Recovery Center case managers have a longer-term view. The medical team will be there to address the patient's medical needs 24/7 during withdrawal and detoxification. Once the client has been physically stabilized and moves on to the next appropriate level of care, case managers may only be required for check-ups, medical evaluations and continued administration of medication.
Begin Healing Now!
Have A Call With One Of Our Treatment Advisors
Caring & Experienced Staff

Fully Licensed & Accredited 
Contact Us Today to Learn More
The case manager is there for the client throughout the entire recovery process. They are the ones who help clients make their way back to living a healthy lifestyle in the outside world. It is the clinical case manager who will look at co-occurring disorders and mental health issues not directly associated with the addiction. However, this is only one portion of the comprehensive and individualized treatment program we provide.
At Pine Tree Recovery Center we consistently prioritize the needs of each individual client. We have developed a program of recovery that focuses on much more than the maintenance of long-term sobriety. Our main goal is to ensure that each client is fully equipped with the life skills and tools he or she needs to build a fulfilling life of sobriety. To get started or to learn more about our program, as a whole, contact us today.